The International Baccalaureate Diploma Programme (IB DP) helps children become lifelong learners and prepare for future success. In this programme offered at the Grade 11 to 12 levels in secondary school, your teenager can explore interesting subjects, engage in learning and gain a solid foundation for future study and success at work. With the IB Diploma Programme at One World International School (OWIS) in Singapore, your child develops open-mindedness, self-management skills, independent inquiry and a global outlook. Learn more about this programme and how it helps your child develop essential 21st-century skills.
IB DP Subjects at OWIS
OWIS offers courses as per the core elements of the IB DP plus six additional subject groups. As a premier international school in Singapore, we deliver a well-rounded, thorough education that allows all children to thrive intellectually, emotionally, physically, socially and ethically.
The three core IB DP requirements your child will complete include:
Theory of Knowledge - Your child can explore the nature of knowledge through self-discovery and personal reflection. With this course, your child gains critical thinking skills and develops a love for learning.
Creativity, Activity, Service (CAS) - While participating in extracurricular, service and experiential learning projects, your child develops life skills. CAS activities teach your child to set goals, exercise creativity and engage in self-discovery.
Extended Essay - As your child investigates interesting and engaging topics, they learn how to conduct research and communicate. An extensive research project and essay allows them to demonstrate learning.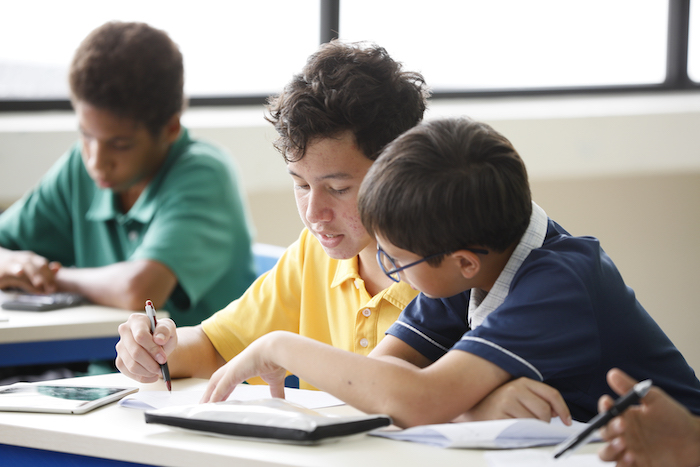 We offer six IB DP subject groups from which our students choose subjects:
Language and Literature - While studying English and/or Literature, your child develops written and oral communication skills and explores the effects of language on cultures.
Language acquisition - Learning Chinese, Mandarin, French, and/or Spanish develops your child's brain function and memory and may be useful in future careers.
Mathematics - Analysis and Approaches or Applications and Interpretations stretch your child's analytical and critical thinking capabilities, allowing them to solve everyday problems outside of the classroom.
Sciences - Through classes in Chemistry, Biology, Physics, Computer Science, and Environmental Systems and Societies, your child learns advanced scientific principles and theories.
Individuals and Societies - Courses in Business Management, Economics, Geography, History, Psychology and Environmental Systems and Societies invite your child to learn about people, environments and societies.
Arts - An optional IB DP subject group, Film, Theater and Visual Arts classes invite your child to express their creativity and gain practical skills for personal and professional use.
The Value of IB DP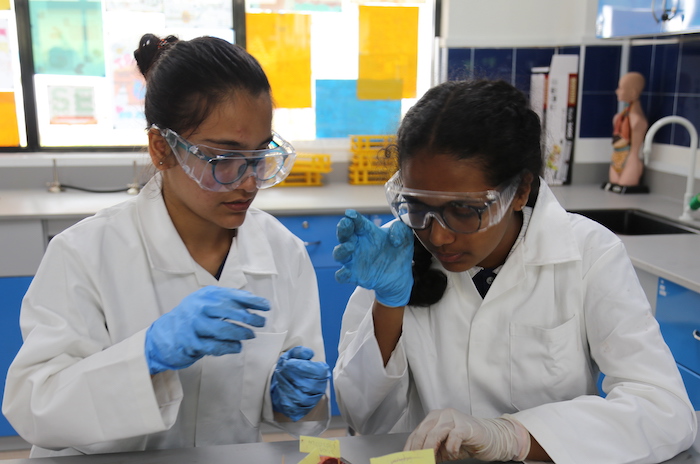 OWIS has chosen to be an IB School in Singapore because this course of study benefits your child in numerous ways. As you discern the best educational pathway, consider the reasons why you can choose IB DP.
Develop 21st-century skills: With engaging, hands-on, collaborative and creative activities, your child gains the skills they need to compete and function in our global economy. These skills include critical thinking, communication, flexibility, leadership and initiative, along with information, media and technology literacy.
Embrace academic challenges: IB DP courses are available at Standard Level and Higher Level. Your child can take the level that matches their abilities, interests and plans.
Learn research and analytical skills for university: Higher Level IB DP courses include lab work and other assignments that require your child to collect data, conduct research and analyse findings. These skills are useful during university study.
Combine personal interests with academic and professional goals: Your child can select topics of interest in the core elements of the IB DP courses, which will nurture their growth mindset related to the subject.
Cultivate an open mind and international mindset: While learning to appreciate other cultures, your child will also understand viewpoints of others, gain empathy and be prepared to interact in today's global economy.
Benefits of IB DP at OWIS
Besides academic rigour and holistic development, there are a number of other benefits for choosing OWIS for your child's IB DP learning journey:
Caring and experienced educators develop lifelong learners. We engage all children in meaningful ways that match their interests, needs and goals.
Our kindness-driven approach includes meaningful, diagnostic feedback that nurtures your child and helps them improve.
The OWIS school environment supports your child's growth mindset and personal interests. For instance, we hosted events such as an online interaction with Joseph Schooling , Singapore's Olympic swimming champion, that our IB DP students led.
We offer an affordable, world-class education. Expat parents in Singapore appreciate the value we offer.
For more information, contact us or book a virtual tour of our international school in Singapore.
We're currently welcoming Grade 11 IB DP applicants for the 2021-22 academic year. Discover how our IB Diploma Programme meets the needs of expat families and provides your child with ample room to learn and grow.