For most children, their kindergarten experience is their first introduction to the classroom. The preschool environment is typically designed to be play-based, nurturing and supportive for the needs of young learners.
As children begin to transition out of the play-based environment into the primary grades, it's crucial that they continue to receive the warm and caring attention they were accustomed to in their Early Childhood programme. This continuity helps students adapt to their new classroom environment and sets them up for long-term success. At One World International School (OWIS), a leading international school in Singapore, the teachers and administrators are aware of this transitional period, and they go above and beyond to ensure that students are able to ease into life in Grade 1.
How OWIS Supports the Transition from Early Childhood to Grade 1
The teachers and administrators at OWIS have implemented a variety of supportive layers that help students adapt to life in Primary Grade 1. These efforts include:
Following the IB Primary Years Programme, which incorporates elements of play-based learning into the Grade 1 lesson plans through hands-on games and activities that relate to the current topic. (The Early Years component of the IB PYP is implemented in OWIS' Early Childhood grades, so this offers continuity of the curriculum for existing students of the school.)
Ensuring that Grade 1 classrooms have a small class size of no more than 24 students, ensuring that every child receives the personalised attention that they deserve.
Allowing new students to gradually be introduced to the campus so that they feel comfortable and at ease in their school environment. Students who were enrolled in the OWIS Early Childhood programme benefit from their familiarity with the campus.
Selecting gentle and caring teachers to oversee the Grade 1 classrooms. At OWIS, all teachers are qualified professionals who have been trained in the IB curriculum. The Grade 1 teachers at OWIS are caring and attentive educators who nurture young students while offering them opportunities to develop responsibility in an age-appropriate way.
Communicating regularly with parents using app-based technology and regular emails, to update them on classroom activities, how the child is doing and if any further emotional support is needed at home during the transition.
Creating a bright and cheerful classroom environment that helps students feel at home within their classroom.
Offering English as an Additional Language for students who have relocated to Singapore from countries where English is not a primary language. This provides young students with the support they need as they acclimatise to their new country and get accustomed to life in their new school.
Creating behaviour agreements between the teachers and students that encourage everyone in the classroom to maintain a positive attitude and be open to constructive feedback.
How Parents Can Support Students in the Primary School Transition at Home
Parents are powerful partners in their children's education. It's essential that parents work closely with their children to help them to adapt to life within a Grade 1 classroom. A few things that parents can do at home are:
Creating a school-day routine that children can count on. Young children will be adapting to life inside the classroom, and routine, as well as a structure at home, will help them feel confident and well-rested for the demands of the day.
Having conversations with children about the importance of making new friends and building relationships. Many children who are relocating from another country and who may be facing language barriers could be intimidated by the idea of making new friends. Parental support can help them feel comfortable in new and different social situations.
Reminding children about what the rules may be in their new classroom. Grade 1 classrooms typically have a bit more structure than Early Childhood classrooms, so parents can prepare their children by being open and honest about the rules that may be in place.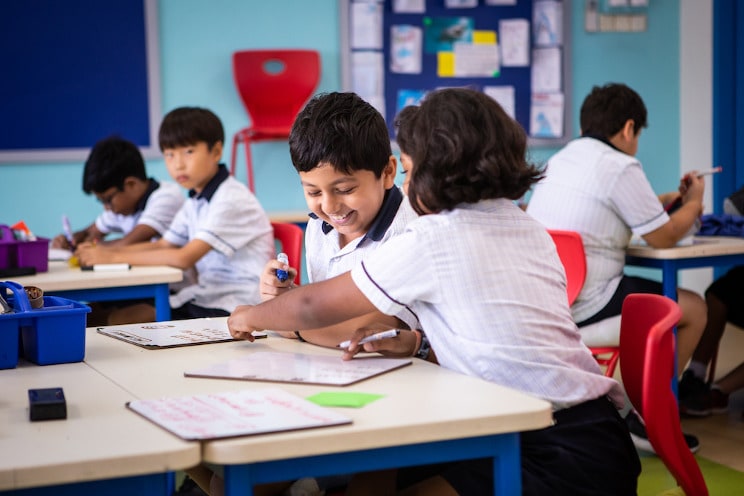 Expat parents in Singapore will be pleased to know that there are two OWIS campuses that offer the Early Childhood to Primary grades. Both the Nanyang and Suntec campuses feature premium facilities, a balanced inquiry-led and play-based curriculum that includes music, art and physical education, and a supportive teaching staff, all of which allow all students to transition successfully from their Early Childhood programmes into Grade 1.
For more information about the IB Primary Years Programme (IB PYP) at OWIS and how it will benefit your child as they enter Primary, join the upcoming webinar.
You can also join the Suntec campus virtual open house or sign up for the Nanyang campus virtual tour.