Established in 1962, The American School of Milan–like many American international schools–was founded by a small group of expat parents who sought a schooling solution for their English-speaking children. They set up a non-profit association with a vision to establish a school which "assured English speaking children of all nationalities the best of two educational worlds: combining the cultural heritage and traditions of Italy, with the modern, forward-looking intellectual and social preparation of an American school system."1 Initially located in the center of Milan with 17 students, ASM rapidly grew and in 1976, moved to a purpose-built campus just south of the city in Noverasco.
To mark The American School of Milan's 60th anniversary, the Board of Trustees took on the challenge of reviewing ASM's mission statement. During this process, feedback from all stakeholders reported an appreciation for the school's highly diverse, welcoming community, founded on educational excellence and guided by ASM's highly qualified and experienced teachers. The school's International Baccalaureate scores are consistently strong, with perfect scores not unusual, and ASM's graduates have access to top universities the world over. Our renewed mission reads:
ASM inspires students to discover their unique potential and to be curious learners, critical thinkers and global citizens who positively impact our world.
ASM also reviewed its core values in 2021. They are now:
Respect, Curiosity, Integrity, Courage and Kindness.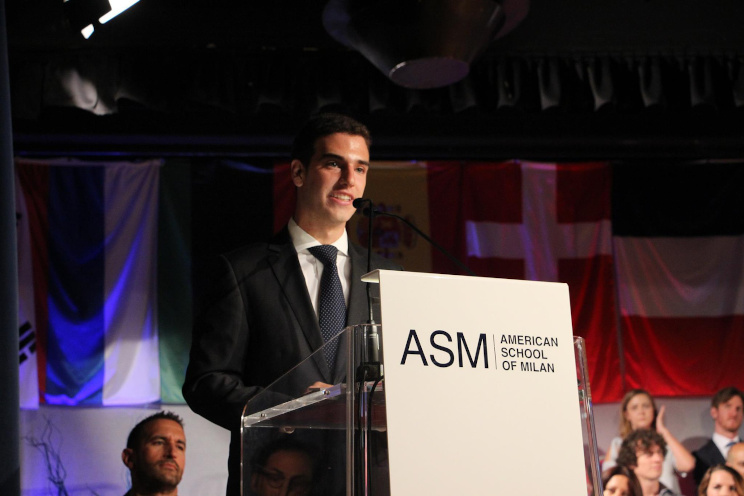 Educational programs such as Accelerated Mathematics, Computer Science, TEDEx and Design Lab provide personalized learning opportunities for students to develop their talents. Co-curricular programs including Model United Nations, Varsity Sports and Duke of Edinburgh support character development, teamwork and build community alongside academic learning. This sense of belonging was recently and sincerely expressed in a letter received by an ASM English Language teacher from a former student. He began ASM as a beginning English language learner:
"I really don't know what to say because whatever I say I can't pay you back for what you did for me, you and the other teachers. I really miss you and the other teachers and also the school (where) I lived with you my happiest two years in my whole life."
Since 1962, ASM has stayed true to its original identity as an American international school, with a commitment to valuing each student as a unique individual. Its host city, Milan is known for its rich history which includes the La Scala Theater, the home of opera; da Vinci's famed fresco painting The Last Supper; and the magnificent Cathedral, the Duomo di Milano at its center. Milan has grown in stature on the world stage as an international center for excellence in fashion, design and creativity, and ASM has grown with its host city. Today, with a community of 825 learners and over 100 educators, The American School of Milan reflects the dual qualities of a strong history and innovative outlook, and we embrace the opportunity to continue to serve this city and the internationally minded families who live here for the next 60 years.