News and Articles about Canadian International School - Singapore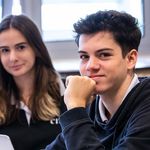 Read
There may be various reasons why a parent in Singapore may be considering sending their child to an international school in Singapore. They might find that the local school education is not what they have in mind for their child's education. Or perhaps, they may be frequent travellers or expatriates in Singapore who would prefer an international school experience for...
Read More
More About Canadian International School
At CIS, we celebrate both our internationalism and the uniqueness of the 80 plus nationalities represented among our students and staff.
Curriculum

IB

, Canadian

Languages of instruction

English, Chinese, French

Ages

2 to 18

Yearly fees -

2022/2023

from:

SGD $25,450


to:

SGD $44,200

Your personal score