The International Baccalaureate Primary Years Programme (IB PYP) has become a popular curriculum for primary school students around the world over the past several years. While there are many reasons why the IB PYP has become popular, it is known to develop a sense of inquiry and curiosity in children while setting a strong foundation for lifelong learning. The PYP goes beyond the basics of simple knowledge acquisition and focuses more on skill development and inquiry-led learning.
These are the primary reasons parents are choosing the IB PYP:
It offers an inquiry-based framework
Rather than creating a classroom environment where students are taught a lesson and given an assignment that promotes retention and reiteration, the IB PYP offers an inquiry-based framework. This framework allows teachers to give students the autonomy to direct the lesson by asking questions, engaging in discussion, creating their own hypotheses and testing their ideas. This inquiry-led approach has proven to be more engaging and ultimately provides primary school students with an ability to connect to what they are studying in their own way and sets the stage for a lifelong love of learning.
It focuses on transdisciplinary learning
Many primary school curricula focus on a wide range of subjects, but the material within those subjects rarely relates to one another. The IB PYP, on the other hand, focuses on transdisciplinary learning. This means that students may not only be learning about one topic in one subject but also discovering how that same topic relates to another subject that they are studying.
The IB PYP features six transdisciplinary themes that help teachers develop a programme based on inquiries and investigations into important ideas which require a high level of involvement on the part of the students. Since these ideas relate to the world beyond school, students see their relevance and connect with the challenges in an engaging way. Students who learn in this way begin to reflect on their roles and responsibilities as learners and become actively involved with their education.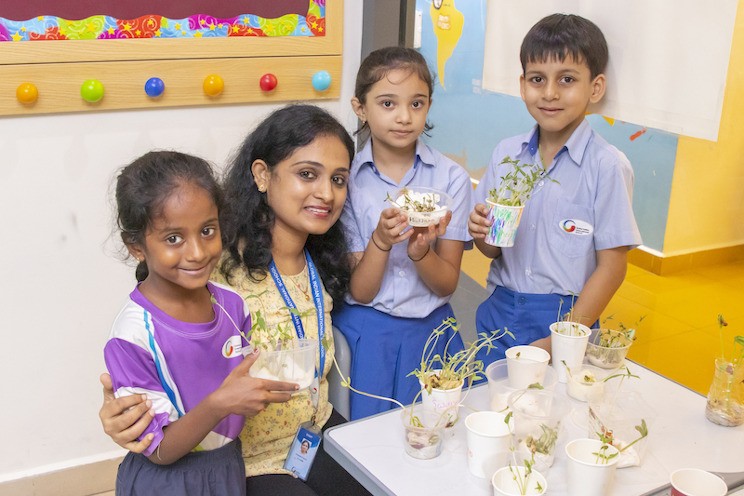 It encourages the development of key skills
The framework of the IB PYP is uniquely designed to help students develop their critical thinking and creative thinking skills. It is becoming increasingly important for learners of all ages and at all stages to think critically about existing and new problems and come up with innovative solutions for the same. Not only is this necessary for succeeding in the classroom environment, but also it will be required of all students who want to be leaders in the global, 21st-century economy. Further, critical thinking and creative thinking are transferable skills that students will rely on throughout their entire lives.
It is action-oriented
Far too often, children are stuck in classrooms as information is fed to them. This is not an engaging or interesting way to learn, and it prevents young learners from connecting with the concepts they are learning. The IB PYP, on the other hand, takes an entirely different approach. It is an action-oriented curriculum that naturally fosters student involvement, lends itself to differentiation and gives students autonomy over their learning. Plus, the transdisciplinary subjects in this curriculum foster a global mindset that allows young learners to see how their lessons relate to the world at large. The PYP supports the development of empathetic, aware and open-minded learners.
It transforms students into empowered, independent learners
Primary school students who experience the IB PYP recognise that they have a voice and begin to understand that they have control over their learning experience. As a result, they naturally develop into empowered, independent learners who are motivated to pursue their academic and personal goals in the years to come. The primary years are when the foundation is laid for the more challenging work of secondary school, so it's incredibly important that primary school students experience a curriculum that naturally motivates them to take risks, challenge themselves, ask questions, engage in discussions and test their own ideas.
Why Choose the IB PYP at GIIS?
These are just a few of the reasons why you should consider enrolling your child in the IB PYP at Global Indian International School (GIIS) :
We emphasise the 4C's of 21st Century education, including critical thinking, communication, collaboration and creativity, inside and outside of the classroom. Our IB PYP curriculum is implemented by experienced teachers who are IB certified and are trained to create lessons that go beyond the classroom. Teachers participate in collaborative planning to make their teaching practices consistent and to encourage a holistic approach to education.

The IB PYP at GIIS fosters a sense of international mindedness. Our multicultural environment allows students to discover the beauty of diversity by connecting with students and staff members of various cultures, traditions and languages and who have lived in various parts of the world. This helps them develop an international mindset and be open to different perspectives and people of varied backgrounds.
Our infrastructure with digital classrooms, skills-based studios, collaborative learning spaces offers dedicated spaces for students to conduct research, work on projects in groups and give presentations, even in the primary years. This contributes to making the inquiry-led IB PYP easy to implement at GIIS.
Our emphasis on holistic development ensures that every child receives a well-rounded education through which they develop physically, academically and emotionally. We have unique spaces and studios for music, dance, visual and performing arts and high-end sports infrastructure. Besides this, we have an extensive range of co-curricular and extracurricular activities for our students to take part in.
To learn more about the benefits of the IB PYP at GIIS, and how we implement it at our campuses in Singapore, do book a one-on-one appointment with us. Our friendly team will be happy to explain more about the PYP framework and its benefits that develops confident, independent learners who take control of their own learning.