KIS's Approach for Effective Remote Learning
As children are now learning from home, parents are struggling to understand how the remote learning models can work effectively. KIS put together the O.R.E.O. model, which covers main concepts of remote learning for teachers, parents and students.
This model was initially created for our Secondary School by Alison Yang, MYP Coordinator, and the school has adapted it for appropriate use in our Primary School as well. Here's the link to Alison's blog which is where she regularly shares her expertise and experience with other educators to ensure a positive learning experience for students and to support parents. As such, the O.R.E.O. concept has since been adapted by other international schools around the world.
O.R.E.O. stands for Objective, Responsibility, Expectation, and Organization, and they are important for all stakeholders: teachers, students, and parents/guardians. These core ideas have really helped to shape KIS's curriculum with positive feedback from the community.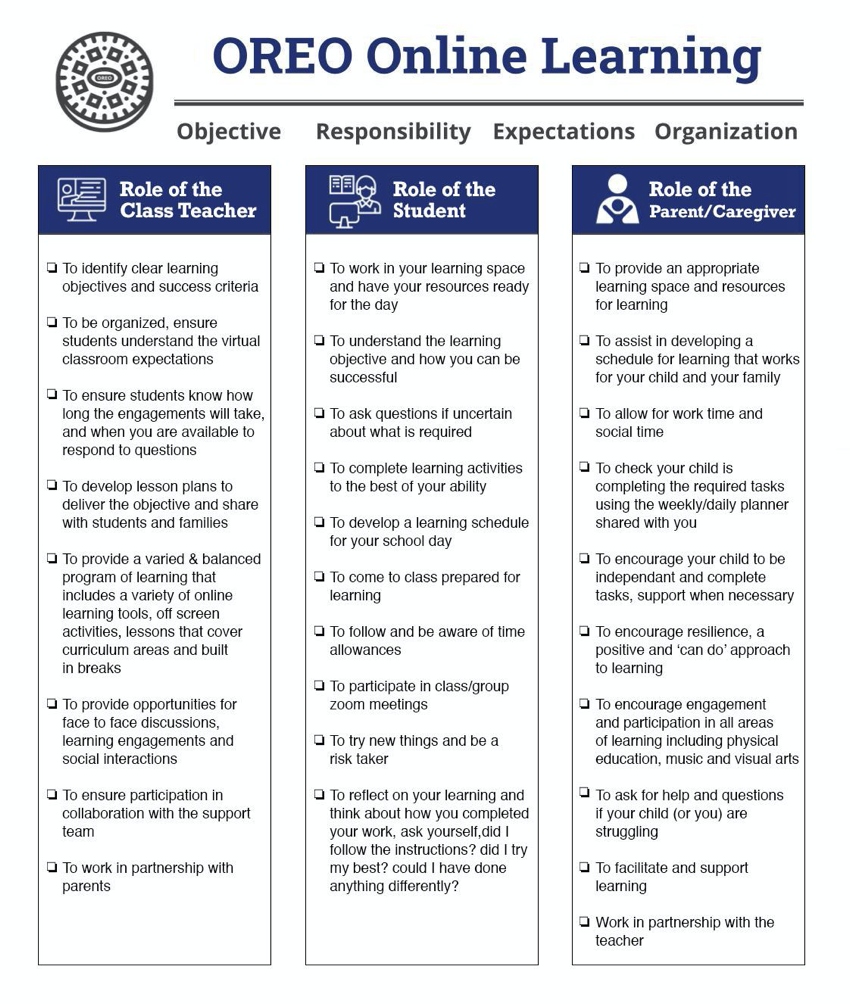 O.R.E.O. Model for KIS Primary School adapted by Primary School Administration from Alison Yang
Here's how we've applied O.R.E.O. into our remote learning curriculum school-wide:
The objectives for learning need to be clearly defined by teachers and understood by students before they begin any assignment. Teachers should not be giving students busy work without a clear purpose.
Students, teachers, and parents each have specific responsibilities. Teachers have the responsibility to provide a holistic and balanced curriculum. They need to update materials and clearly and regularly communicate instructions. Students have a responsibility to take ownership of their learning and to complete tasks and assignments with their highest level of effort. Parents can help facilitate and support their child(ren)'s learning but are by no means expected to become their new teachers.
The school has a responsibility to set expectations of what remote learning will and will not be. At KIS, a combination of asynchronous and synchronous learning is provided. It has been shown through research that trying to replicate a school day online does not work. Independent work allows students to develop time management and organizational skills. It also allows the school to better assist students who have learning support needs and provides the much needed flexibility to families who are all facing unique situations. However, the importance of social interaction cannot be understated, and so strategically and purposefully taking advantage of various technologies to allow students to virtually "see" one another and ask questions to their teachers are also regularly provided.
Being organized is key in managing personal time, resources, and obtaining help when it's needed. Teachers should make sure their assignments are easy to find, sequenced and easy to track. We have also found it helpful to share learning outcomes as well as estimated times to complete assignments so that students and parents can manage their times and prioritize. Having a dedicated learning space to encourage productivity is also extremely important for everyone.
O.R.E.O. Online Learning has been extremely helpful in the development and continuous improvement of the remote learning programmes offered at KIS. By pulling together the expectations of the teachers, students, and parents, everyone has a clear understanding of how to work together to help each child learn best.