The IB Diploma Programme (IBDP) is a respected pre-university course offered to high school students (Grades 11 and 12) aged 16 through 19. Students who do the rigorous IBDP flourish intellectually, socially and emotionally. In school, they learn to think critically and creatively, do research and analyse their findings. In university and the workplace, IB graduates are valuable contributors with a wide breadth of skills, values, knowledge and understanding of how to put their knowledge to good use.
Over 5,000 schools around the world teach IB (International Baccalaureate) programmes. For schools like GIIS (Global Indian International School), where we teach grades K through 12 (Kindergarten to Grade 12) and offer multiple international curricula, including the IB, students are able to learn in a technologically advanced 21st-century learning environment.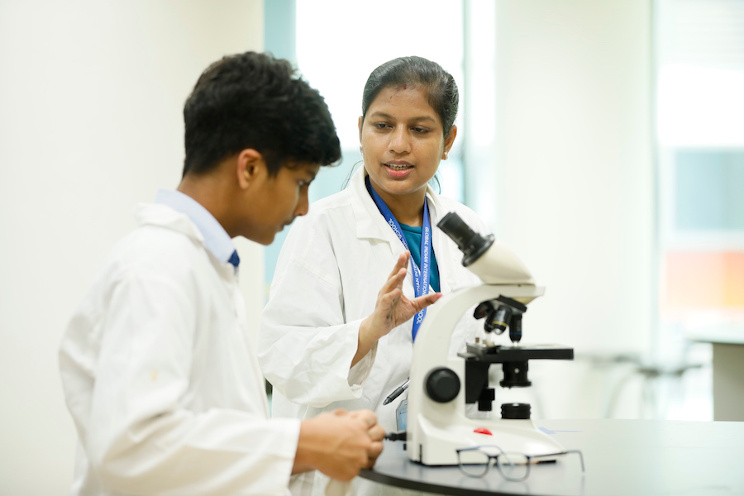 If you're interested in understanding more about high school education in Singapore and specifically about the IB Diploma Programme, this Q&A with an IBDP graduate from GIIS can help you understand more on the benefits, the challenges and the experiences that come from a well-rounded programme like the IB Diploma.
We spoke to Nevethita Bharati, who has been a student of GIIS for 12 years, starting from Grade 1. Nevethita was a recipient of the Dr. APJ Abdul Kalam Global Skills Scholarship at GIIS and received a perfect score of 45/45 in the 2021 IBDP exams to become an IB World Topper. Here's an excerpt of the interview.
Q. Tell us a little about yourself.
I was born in Singapore and have lived here all my life. My favorite past-times are expressing my unfiltered opinions about global issues through debate, boxing to release stress, and reading any genre (I like to experiment!).
Q. How did you find the IB Diploma Programme?
To be honest, it was a steep learning curve. The IB Diploma at GIIS offered me many opportunities to explore my aspirations and naturally develop my curiosity, but its rigorous nature transformed me into a multi-tasker.
Q. Describe your experience studying at the Global Indian International School (GIIS).
While GIIS is known for its facilities, academics, and extracurricular pursuits, I will always remember the school for its community. I emphasize the word "community" because friends and teachers cannot be separately discussed. Together, they form the backbone of your support system, especially during the IB journey. In fact, the amount of time my teachers were willing to invest in my education inspired me to be equally driven. The same applied to friends. Although there is a lot of self-studying in the IB, if I was facing a mind block and could not think of ideas or understand a concept, my friends were more than willing to help. Hence, the GIIS culture walks a fine line between a competitive atmosphere that drives you to excellence and a supportive community that will not ignore you when you are struggling.
As an aspiring law student, I thoroughly enjoyed participating in public-speaking forums organised by GIIS. This included participating and chairing at Model United Nations conferences internally and externally. Being exposed to other circuits like conferences at Stanford American International School of Nanyang Technological University exposed me to different debating styles, different student cultures and helped me gain awareness about global issues. I also had the opportunity to organise a few events like the GIIS Law Summit, GIIS-MUN, be a part of the Gavel Club, Debate Club, write an Annual Day play script and participate in numerous dance and musical performances at GIIS.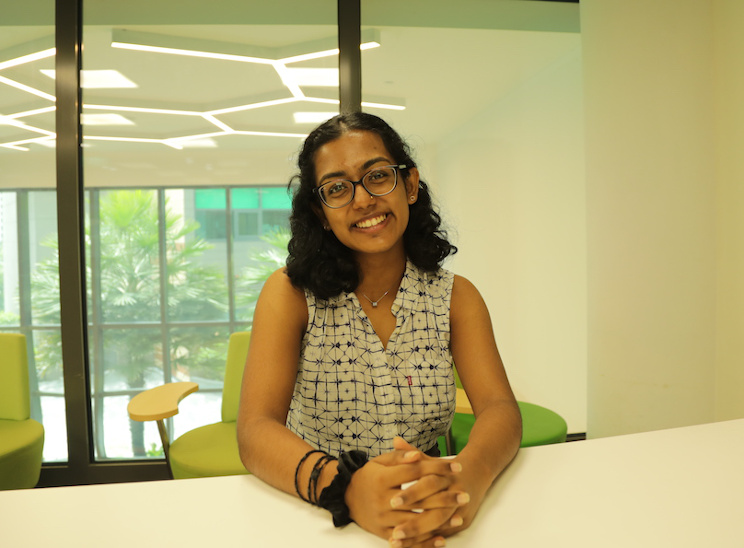 Q. What are some of your learnings from the IBDP?
It is easy to lose focus when you are working towards the long haul that is the IBDP. There is an endless list of tasks that you need to pay attention to, whether it is university applications, extra-curricular activities, or meeting essay deadlines. As an IB student, I cultivated the ability to manage multiple tasks at once and not lose focus. I had to constantly remind myself of the end goal. This prepares you when you step outside of school and have to balance multiple priorities.
Q. Challenges you faced in the IB and how did you overcome them?
In my opinion, no IB student can finish the course without facing challenges. Ironically, it is part of the process. I dipped my toe in all the opportunities the school offered. I participated in entrepreneurship competitions, was part of the student council and many more. On the other hand, I was excited to pursue an academically challenging curriculum that would quench my curiosity. So I decided to take up 4 Higher Level subjects and 2 Standard Level subjects (3 HL subjects and 3 SL subjects are the norm). A challenge that came up however, was when my Tamil Board exams were held earlier than expected and during that time, I also had to apply to the top UK universities. The challenge came from within because I did not want to compromise. All the activities that I engaged in inspired and interested me, so I refused to let go of anything. A by-product of this was time became a rare quantity and I was close to a burn-out.
However, it was during this time that I learned the importance of filtering out and prioritizing. I prioritized the tasks that required attention at that time. For example, if there was an exam coming up, extra-curriculars would take a backseat or if a conference was coming up, my teachers were open-minded and allowed me to balance academics with my other interests. Hence, I was able to develop the skill of prioritizing by facing these challenges in IB.
Q. How did you balance academics and your other activities?
The truth is that you cannot learn this skill in one go. It is a continuous learning process. However, I loved this balance between academics and the extra-curricular activities I took up, because one cannot function without the other. In my case, the skills I learned from both were transferable. For example, I would exercise the patience that I developed from learning violin for 8 years in the research process for my Extended Essay. Or I would employ the critical thinking skills I developed in Economics class to debate. This use of different skills from different activities/lessons kept me inspired.
I would also try my best to find time to exercise. This was difficult but exercising kept me motivated. I found solutions to the lack of time. In IB Year 2, I was only able to handle the stress because I found a boxing gym near the school. So I would go to a boxing class before school started and then go to school from there. Thus, every student needs to find out how to balance their activities in their own way.
Q. Would you like to share an unforgettable memory during the IBDP?
Sure. My most unforgettable experience was Cambridge MUN when GIIS organised a trip to the University of Cambridge to attend a Model United Nations conference. I loved every single minute of the experience and in hindsight it was this experience that reaffirmed my interest in Law. I represented the delegate of Bangladesh in the Special Committee on Children and Armed conflict where I had to discuss the issue of child soldiers and their plight during the refugee crisis.
Q. How did the teachers and coordinators at GIIS support your journey?
The teachers and coordinators were the pillars of my IB journey. I cannot emphasize the number of times I have relied on their experience, support, and brilliance. It amazes me how the teachers who used to teach my sister 10 years ago were still teaching me at GIIS. My co-ordinator, Ms. Deepa was someone our cohort would look up to as a role model. Partially because she was always composed despite the truckload of work she had and also because she was an excellent teacher who gave a student creative space to flourish. The amount of time and effort the teachers were willing to put in simply inspired me to perform equally well.
Q. What's next - which university are you headed for?
I am grateful to have received an offer to read law at the University of Cambridge. To me, the university represents an amalgamation of immense knowledge and room for curiosity. I witnessed its rich historical roots and learned about its law Tripos during my participation in the Cambridge University MUN-HS, 2019. I was intrigued by how it examines law from a historical, theoretical, and contemporary standpoint. The array of opportunities it offers drew me to this course as I want to unravel facets of law like Human Rights Law, Criminal Law, or International Law before specializing.
Thanks Nevethita for sharing your interesting journey at GIIS with us and we wish you all the best for all your future endeavours. We're sure you will do us proud at the University of Cambridge!
Each stage of school is important for students in different ways (be it early childhood, primary, secondary or high school) and children need to be supported and nurtured at every level. At GIIS, we help students learn, grow and become well-rounded global citizens who can face the future confidently. To learn more about how attending GIIS can help your child now and in the future, contact us now to schedule a one-on-one meeting with an admissions counsellor or attend a virtual campus tour.