Finding international schools that suit your family's needs is not child's play. And once you find them, comparing the pros and cons of each school is no picnic, either.
Our mission at the International Schools Database is simple. We want to make the task of finding an international school for your child straight-forward and stress-free.
Choose your preferences to personalise your results and to start keeping track of your top schools. You will also be able to compare the specific criteria of each one, based on what you need and want from an international school.
When you choose your preferences you can select schools to compare, choose specific characteristics that are important to you, and see the results on one single page, like this one: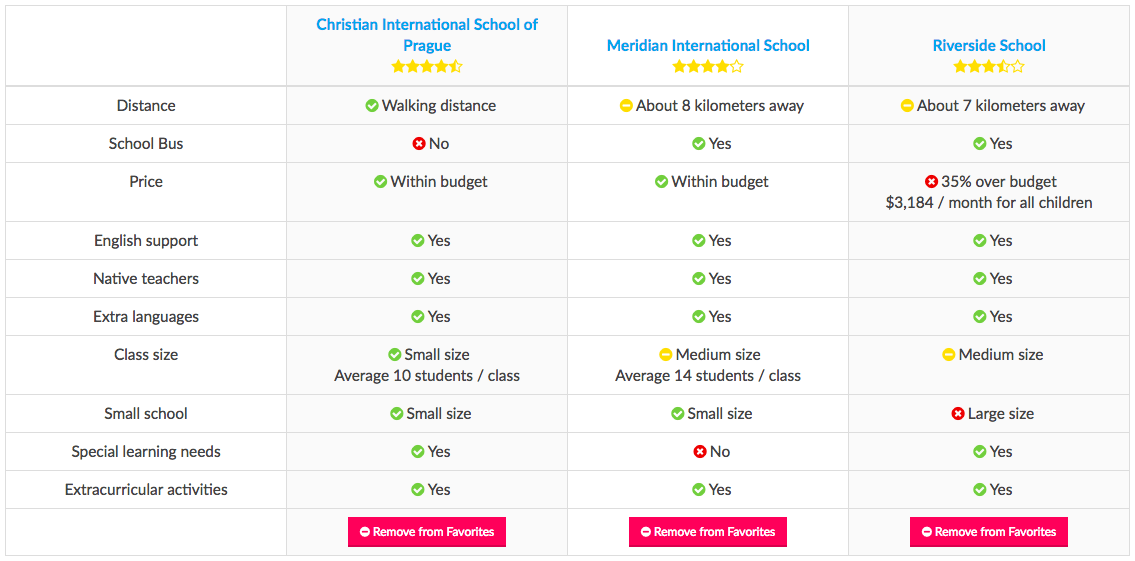 Choose Your Preferences Now!
We offer a lot more than school comparisons, too. When you set up your preferences you can also:
Personalise your results. Answer a few quick questions and we'll calculate a personal score for every international school in your city.
Sort and rank schools. We organise and display schools for you based on your preferences, so you can see the best contenders in seconds.
Create a shortlist. Add schools to a list of favorites so you have all the details you need, ready and waiting for when you want them.
Compare your favorites (as you already know).
Filter out the noise. When you have a list of contenders we filter out everything else, so you won't have to see the schools you've already eliminated.
Start Personalising Your School Search Now!